Written by Emekpo Charles
Posted on Amazons Watch Magazine, Jul 6, 2018.
Patricia Era Bath, a prominent ophthalmologist, and innovative research and laser scientist, is the first African American woman physician to receive a patent for a medical invention. Born on November 4, 1942, in Harlem, New York to Rupert Bath, a Trinidadian immigrant and the first black motorman in the New York City subway system, and Gladys Rupert, a domestic worker. In 1959 while in high school at Charles Evans Hughes, she received a grant from the National Science Foundation to attend the Summer Institute in Biomedical Science at Yeshiva University. There, she studied the relationship between stress, nutrition, and cancer. In 1964, Bath graduated from Hunter College in New York City with a B.S. in chemistry. Four years later, she received her medical degree from Howard University Medical School in Washington, D.C. She has four patents to her name and founded the non-profit American Institute for the Prevention of Blindness in Washington, D.C.
Bath married and had a daughter, Erika in 1972. While motherhood became her priority, she also managed to complete a fellowship in corneal transplantation and keratoprosthesis (replacing the human cornea with an artificial one).
Photo source: hcvpgh.org
Patricia Era Bath's dedication to a life in medicine began in childhood. She was inspired by Dr. Albert Schweitzer's service to lepers in the Congo. The start of Bath's medical career has been one that broke many racial and gender grounds. From 1970 to 1973, she completed her training at New York University School of Medicine as the first African American resident in ophthalmology. While a young intern at Harlem Hospital and Columbia University, Bath noticed the contrast between the eye clinic of Harlem where half of the patients were visually impaired or blind in Columbia, where only a few patients suffered from blindness. Because of this, Bath conducted a study and found that blindness among blacks was high compared to the white due to lack of proper eye care facilities in black communities. In an attempt to remedy this alarming problem, she proposed a new worldwide system known as community ophthalmology in which trained eye care volunteers visit senior centers and day care programs to test the vision and screen for cataracts, glaucoma, and other serious eye conditions. Through this community outreach program, underserved populations whose eye conditions would have gone untreated have a better chance to prevent blindness.
She reached the conclusion that the high prevalence of blindness among blacks was due to lack of access to ophthalmic care. As a result, she proposed a new discipline, known as community ophthalmology, which is now operative worldwide. Community ophthalmology combines aspects of public health, community medicine, and clinical ophthalmology to offer primary care to underserved populations. Volunteers trained as eye workers visit senior centers and daycare programs to test vision and screen for cataracts, glaucoma, and other threatening eye conditions. This outreach has saved the sight of thousands whose problems would have gone undiagnosed and untreated. By identifying children who need eyeglasses, the volunteers give these children a better chance for success in school.
Bath was also instrumental in bringing ophthalmic surgical services to Harlem Hospital's Eye Clinic, which did not perform eye surgery in 1968. She persuaded her professors at Columbia to operate on blind patients for free, and she volunteered as an assistant surgeon. The first major eye operation at Harlem Hospital was performed in 1970 as a result of her efforts.
Photo source: Umkc.edu
Bath joined the faculty of UCLA and Charles R. Drew University in 1974 as an assistant professor of surgery (Drew) and ophthalmology (UCLA). The following year she became the first woman faculty member in the Department of Ophthalmology at UCLA's Jules Stein Eye Institute. As she notes, when she became the first woman faculty in the department, she was offered an office "in the basement next to the lab animals." She refused the spot. "I didn't say it was racist or sexist. I said it was inappropriate and succeeded in getting acceptable office space. I decided I was just going to do my work." By 1983 she was chair of the ophthalmology residency training program at Drew-UCLA, the first woman in the USA to hold such position.
Despite university policies extolling equality and condemning discrimination, Professor Bath experienced numerous instances of sexism and racism throughout her tenure at both UCLA and Drew. Determined that her research will not be obstructed by the "glass ceilings," she took her research abroad to Europe. Free at last from the toxic constraints of sexism and racism her research was accepted on its merits at the Laser Medical Center of Berlin, West Germany, the Rothschild Eye Institute of Paris, France, and the Loughborough Institute of Technology, England. At those institutions, she achieved her "personal best" in research and laser science, the fruits of which are evidenced by her laser patents on eye surgery.
Bath's work and interests, however, have always gone beyond the confines of the university. In 1977, she and three other colleagues founded the American Institute for the Prevention of Blindness, an organization whose mission is to protect, preserve, and restore the gift of sight. The AIPB is based on the principle that eyesight is a basic human right and that primary eye care must be made available to all people, everywhere, regardless of their economic status. Much of the work of the AIPB is done through ophthalmic assistants, who are trained in programs at major universities. The institute supports global initiatives to provide newborn infants with protective anti-infection eye drops, to ensure that children who are malnourished receive vitamin A supplements essential for vision and to vaccinate children against diseases (such as measles) that can lead to blindness.
As director of AIPB, Bath has traveled widely. On these travels, she has performed surgery, taught new medical techniques, donated equipment, lectured, met with colleagues, and witnessed the disparity in health services available in industrial and developing countries.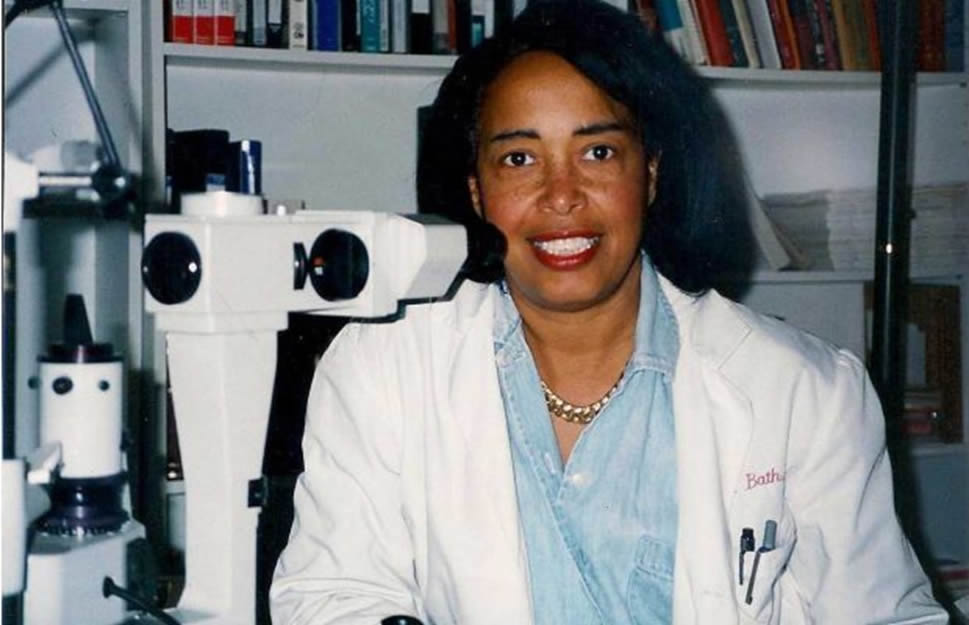 Dr. Bath is also a laser scientist and inventor. Her interest, experience, and research on cataracts lead to her invention of a new device and method to remove cataracts—the laserphaco probe. When she first conceived of the device in 1981, her idea was more advanced than the technology available at the time. It took her nearly five years to complete the research and testing needed to make it work and apply for a patent. Today the device is used worldwide. With the keratoprosthesis device, Dr. Bath could recover the sight of several individuals who had been blind for over 30 years.
In 1993, Bath retired from UCLA Medical Center and was appointed to the honorary medical staff. Since then, she has been an advocate of telemedicine; the use of electronic communication to provide medical services to remote areas where health care is limited. She has held positions in telemedicine at Howard University and St. George's University in Grenada.
Dr. Bath's greatest passion, however, continues to be fighting blindness. Her "personal best moment" occurred on a humanitarian mission to North Africa when she restored the sight of a woman who had been blind for thirty years by implanting a keratoprosthesis. "The ability to restore sight is the ultimate reward."